The debate over when is the best time to close a pool for winter can be contentious. Some people believe pools should be closed as soon as the first cold snap arrives, while others think closing a pool too early can do more harm than good. So, what's the correct answer? When should you close your pool for winter? Let's take a closer look at some of the factors involved in making this decision.
Here is when to close the Pool
It's that time of year again. The leaves are falling, the days are getting shorter, and the temperature is dropping. For many pool owners, this signals the end of the swim season. But when is the best time to close up shop?
The Outside Temperature Drops Below 18
There are a few factors to consider when deciding when to close your pool. If you live in an area with mild winters, you may be able to extend your swim season into late fall or early winter. However, if you live in an area with colder winters, it's essential to close your pool before the first freeze. This will help to prevent damage to your pool and prolong its lifespan.
Before nighttime lows drop below freezing, pools should be closed as a precaution. Although keeping the pump running prevents the water from freezing, you shouldn't risk harming the Pool during a power outage in cold weather and spending extra money on pool upkeep and repairs.
As a precaution and a good rule of thumb is to close the pool when you see constant weekly temperatures under 10c at night and 18c during the day. Most people won't want to swim in weather colder than 18c during the day, so closing early might not be as terrible as it sounds.
Pool Usage
Another factor to consider is how often you use your pool. If you are a casual swimmer who only uses your pool a few times per month, you may decide to close the pool for the season earlier. However, if you are a more dedicated swimmer who uses your pool daily, you might decide to keep it open longer as you are frequently in the pool to monitor its temperature and condition.
Excess Pool Debris
In the fall, if your Pool is surrounded by many trees and many leaves are falling into it, you may need to close the pool to prevent the leaves from clogging the filter and causing other damage.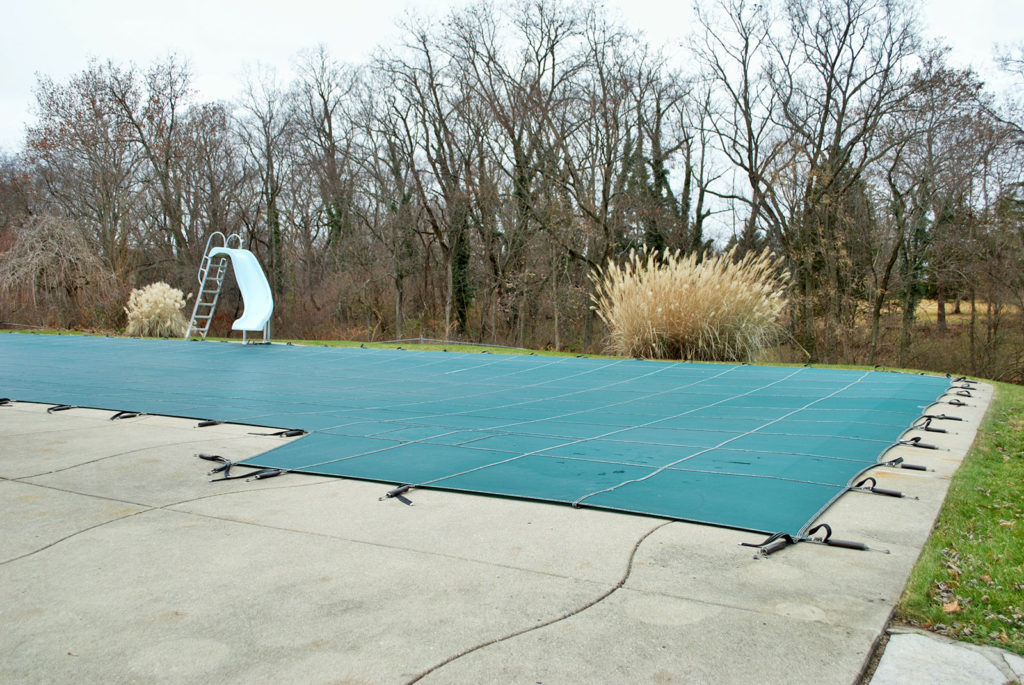 Tips on How to Close a Pool
Clean your Pool. You will be glad you spent the time to avoid a hassle this spring by cleaning the pool. If you don't clean out the leaves and other debris from the bottom, you'll have a more challenging time in the spring when you try to clear the water, so it sparkles.
Water testing and balance. Keep your pool water balanced with regular water testing throughout the winter to avoid scale formation and corrosion. To preserve the efficacy of the other pool chemicals you use, the chlorine level should be kept below 5 parts per million.
Add chemicals to the winterize. By using winterizing chemicals, you can ensure that your Pool will be in better shape come spring.
Blow the lines out. Blowing out your lines before the first frost is vital to prevent water freezing in the pipes and creating extensive, expensive damage. Doing so prevents the buildup of water in the pipes, which, if frozen, can lead to a costly repair.
Getting rid of accessories. Please take out the Pool's vacuum, skimmer baskets, ladders, heaters, toys, and accessories, and store them away for the season.
Shock the water. Microorganisms can cause pool contamination, but shocking the water can kill them. Since these chemicals are so potent, you must use them exactly as the manufacturer directs.
Putting up a pool cover. Pool safety coverings have been increasingly popular recently, with their adoption outpacing traditional tarps. They prevent kids, dogs, and wildlife from getting stuck under a pool cover by providing a hard surface that can support their weight safely.
Have a Professional Handle It for You
Closing the Pool can be time-consuming and frustrating for long-time pool owners. The process may be tiresome, but it must be carried out correctly to avoid any complications in the spring. Joel Evan Pools professionals will handle this for you, so you can relax knowing you'll have a good pool ready for you when the weather warms up.
FAQ
Should i shock my pool before i close it?