An inground pool is a swimming pool built into the ground's surface. It is different from other pools constructed above the ground's surface. There are several benefits to having an inground pool; these benefits include:
Inground pools are more aesthetically pleasing, increasing your home's value.
Inground pools have greater flexibility in size and shape, allowing you to customize your pool to your exact specifications. For example, you can customize your pool with features such as slides, diving boards, and attached spas.
Inground pools have increased durability as they are built into the ground, typically using long-lasting materials such as concrete, fiberglass, or vinyl.
On the other hand, there are also some drawbacks to consider before installing an inground pool. These drawbacks include:
Inground pools can be expensive to install, requiring time and effort.
Inground pools require more maintenance than above-ground pools, which can be challenging to repair if they develop leaks.
Inground pools can be dangerous if improperly installed, secured, and maintained and pose a serious drowning risk for young children.
Suppose you're considering filling in an inground pool. In that case, it's important to weigh the pros and cons carefully before deciding. Otherwise, knowing what to do with an inground pool that is no longer being used or one that you feel the need to get rid of can be difficult.
If you are a person in need of buying or selling a house with a pool or have a pool you no longer want and are probably wondering how to go about it, Joel Evan Pools has the answers for you.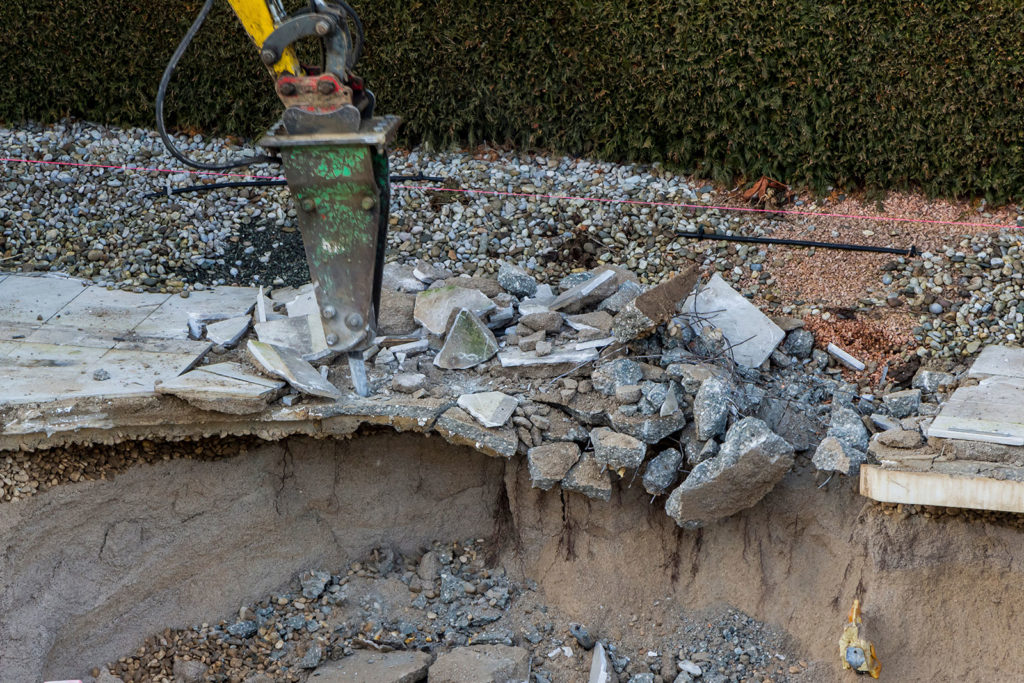 About Joel Evan Pools
Joel Evan Pools is an inground pool specialists company. The company is a family-owned and operated business that takes pride in its work. Since 1998, the business has established a solid reputation and is well known as a reliable pool installation company in the National Capital Region after installing more than 1000 inground pools.
The company's staff is certified by the National Swimming Pool Foundation and hence are professionals in their work. Additionally, the team is committed to providing customers with the highest quality service possible and stands behind the company's work with a 100% satisfaction guarantee.
Joel Evan Pool's Services
Joel Evan Pools Company is fully licensed and insured and offers a wide range of services, including inground pool construction, maintenance, repairs, and demolition. During pool demolition, the company uses various methods to safely and efficiently remove inground pools, including excavating the area around the pool, breaking up the pool's concrete shell, and removing the pool liner. Additionally, they offer inground pool installation and inground pool liner replacement.
The company also offers a variety of financing options to help its clients afford the pool of their dreams whenever faced with financial limitations. The team offers a full clean-up of the site where they will remove your inground pool and all related decking, fencing, and landscaping. So whether you've outgrown your current pool or want to update your backyard, Joel Evan Pools have you covered.
But what are the differences between the above-mentioned; fill-in pool service and inground pool demolition service, and what are their pros and cons?
Fill-in Vs. Demolition
Inground pool demolition is a process where the pool is dismantled and removed from the property. This process involves excavating the soil around the pool, removing the liner and other above-ground features, and then filling the hole with dirt. Demolition is usually only necessary when the pool is no longer usable or desired.
The main advantage of inground pool demolition is that it allows you to reclaim the space where the pool was located. You can use this space for other purposes, such as gardening, entertaining, or simply relaxing. However, the disadvantages of this demolition process include the fact that it can be messy and time-consuming, and it may not be possible to remove all traces of the pool.
Fill-in, on the other hand, is a process where the pool is filled in with dirt, concrete, or another material. This process is often done to lower the cost of pool maintenance or to reduce the risk of injury. Fill-in can also be used to prepare a site for new construction.
The advantage of pool fill-in is that it's generally less expensive than inground pool demolition, and you won't have to deal with a large hole in your yard. The disadvantage of pool fill-in is that you won't be able to use your inground pool anymore, and your yard will likely be uneven.
FAQs
How expensive is filling a pool?

What is the best material to fill a swimming pool?

How much does an inground pool demolition cost?

Do you need a permit to fill in a pool?

What are some of the filled-in pool problems?